Choose Google's browser preferred by over 71% of CourtCall users and growing.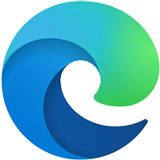 Microsoft Edge
Choose Microsoft's chromium-based browser for Windows 8.1 & Windows 10 devices.
Yes, it's time to upgrade your browser. CourtCall only works with modern browsers like Google Chrome and Microsoft Edge.
---
Not what you're looking for?
Return Home | Go Back | Try SMS Text | Try Live Chat | Call Support (888) 882-6878